About Me
I'm a passionate woodworker with an eye for detail. I reside in Murfreesboro, Tennessee with my wife Marcy and our 3 children Ronnie, Elise & Callie.
My first introduction to working with wood was in the 7th grade, the first project we made in shop class was a C02 powered dragster car. I got bit by the woodworking bug and continued taking shop class until I graduated from high school. After school I didn't do much of any woodworking....Fast forward 20 years...We wanted a farm table for our home, and instead of buying one, I decided to build one. That table was the beginning of getting back into woodworking. I continue to learn and grow as a woodworker through taking various classes and workshops.
A very important part of any woodworking project is the ingredients being used. I try and source as much lumber as I can that's local/regional to Tennessee. I'm a big fan of air-dried hardwoods, versus kiln dried, because of the color and patina that adds so much character and uniqueness to each piece that I create. However, when I can't source something locally, I will purchase from a local hardwood dealer. Some of the woods I use are Hard Maple, Walnut, Cherry, Ambrosia Maple, Birdseye Maple, Curly/Figured Maple, Mulberry, Purple Heart, and Yellow Heart. Each of these woods are different in color and grain patterns, and each make for a pallet of beautiful combinations. All of the items shown on my site have been handmade by me in my shop.
I am also a member of the Cumberland Furniture Guild and the Stones River Woodworkers Club.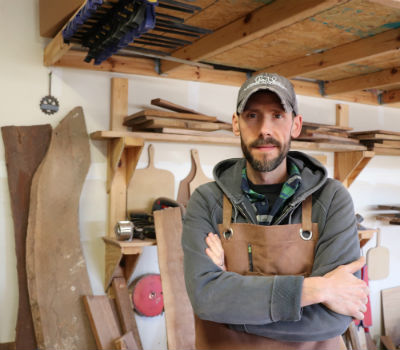 It's been great watching Ron's talents and artistry blossom into truly fantastic work. I use a couple of Ron's boards every week in the kitchen and just placed orders for friends and relatives as birthday and Christmas presents. They are just gorgeous.

Todd Sucherman, drummer for Styx
I was so excited when my board arrived!! Ron was so kind to ship it all the way to the Virgin Islands where I live. When I opened the package, I couldn't believe how absolutely perfect my board was! The colors, the grain, the finish - perfect! It' so beautiful, I decided to show it off as a display piece and won't let anyone use it.

Cheryl L, Virgin Islands
We chose Ron's work as a closing gift because of the beauty, craftsmanship, and we love to support the local business owner.

Bud George Real Estate Team, Murfreesboro TN
Ron's work is beautiful and he was so easy to work with! My custom order exceeded my expectations. I'm already placing my next order.

Kelly L, New York